2021 Music Schedule!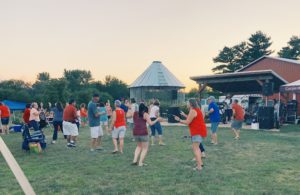 Spring is coming quick!! Mark your calendars and tell your friends and come out to enjoy these free concerts this summer!! We will have food vendors at most of these events. Feel free to bring your own munchies, but only CCC alcohol is allowed due to State laws. 
Due to the situation in this country, we are still following mandated social distancing.
PLEASE NOTE THE FOLLOWING
We will not be allowing any tastings to keep our indoor area clear for "to-go" purchases and SLUSHIES only!
Our INDOOR RESTROOMS will be CLOSED due to social distancing requirements. We have rented a very nice trailer with 3 restrooms for your use!
We will be selling cold bottles & glasses of wine, for on premises consumption, directly outside our tasting room.
We have rented an extra large tent to allow for more spacious seating (while still in the shade).. Please feel free to bring your own pop ups if you desire. Provide your own lawn chairs if you wish to sit under the tent!!
To download & print our schedule for your refrigerator or desktop!: